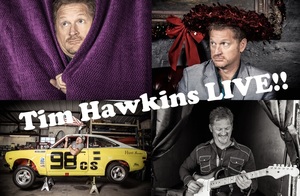 Since giving up his job as a grocery truck driver in 2002, Tim Hawkins has been establishing himself as one of the most in-demand comedians in the country. With 300,000,000 video views online and over 100 sold-out concerts every year, his Jackwagon Crew has grown into a revolution of multi-generational proportions. But don't take it from us... Tim's gut-busting co...
RUSSELLVILLE, AR - The Center for the Arts Foundation has announced a $10,000 donation from the Russellville Advertising and Promotion Commission. The A & P donation is the largest donation yet given to the Center Foundation and is the lead donation toward a performing artist series set to begin during the 2018-19 season at The Center for the Arts. The Center for the...
The Center for the Arts recently honored members of the Center pARTners volunteer group who donated 300 hours of community service during the past 2016-17 season. Volunteers were recognized during the annual celebration luncheon recently held in the BlackBox of The Center. This years event, "Let's Taco Bout How Awesome You Are", was a time for volunteers to come toge...